Item Enhancement-Dragon Fusing
Dragon Fusing System
Allows you to raise the total stat value of an item.
Even the lowest grade is higher than the base stats.
How to Fuse a Dragon
1. You can Fuse a Dragon Spirit by using the Dragon Spirit Scroll.
2. When you right click the Dragon Spirit Scroll (shown in red box), a Dragon Fusing UI will show.
3. Any Equipment item can be fused with a Dragon Spirit.
4. Upon completing the fusion process, the Dragon Spirit Scroll will disappear.
5. Any item upgrades made prior to fusion will stay in effect.
6. Fusing will stay in effect even after a fused weapon has been upgraded to Imperial grade.

Changing the Grade
1. Item grade varies from 1~8, and is randomly chosen.
2. Drag the item you wish to fuse into the "equipment" slot.
3. Press "confirm" to start fusing.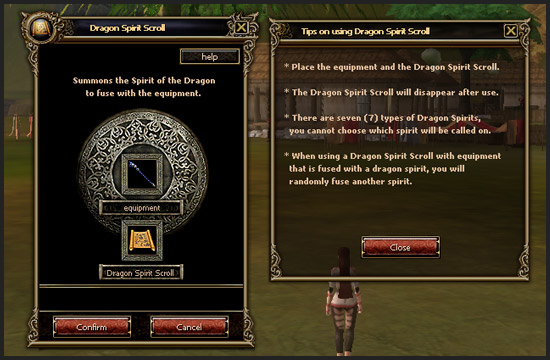 4. A progress bar will appear.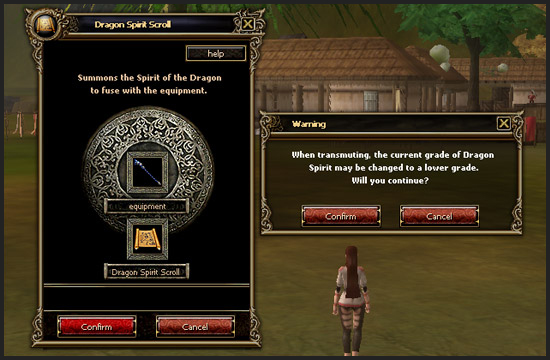 5. When the progress bar reaches a 100%, the fusing will be completed. The name of the grade will appear.
6. Move your mouse cursor over the fused item, the detailed information of the upgraded stats will show.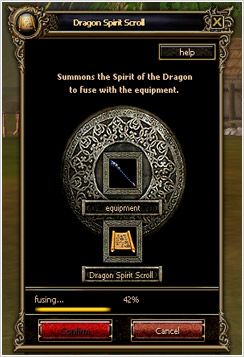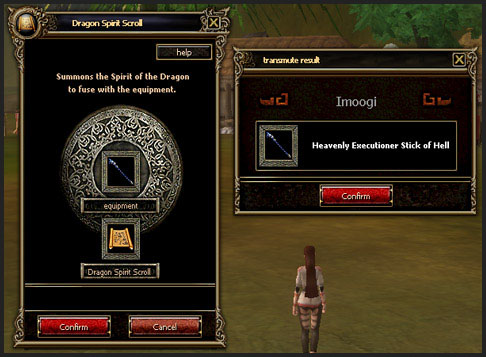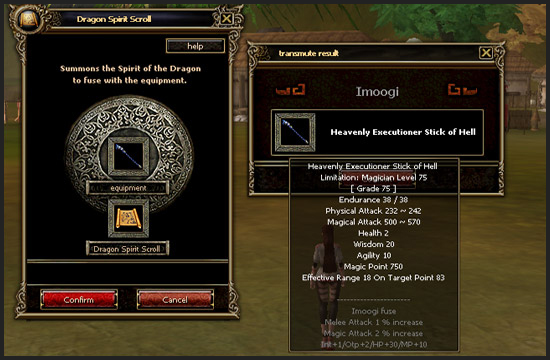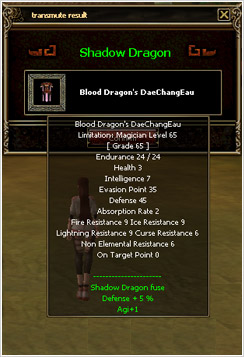 Equipment Grade and Stat upgrade sheet
- There are 8 grades total, Grade 1 being the highest.

1. Weapons
List : Weapon
Grade
Min~Max Melee Attack
Min~Max Magic Attack
Bonus Stats
OTP
HP
MP
Imoogi
1 ~ 2%
1 ~ 2%
Random + 1
2
30
10
Shadow Dragon
3 ~ 4%
3 ~ 4%
Random + 1
4
50
30
Sky Dragon
5 ~ 6%
5 ~ 6%
Random + 2
6
70
50
Ancient Dragon
7 ~ 8%
7 ~ 8%
Random + 2
8
90
70
Storm Dragon
9 ~ 10%
9 ~ 10%
Random + 3
10
110
90
Violent Dragon
11 ~ 12%
11 ~ 12%
Random + 3
12
130
110
Thunder Dragon
13 ~ 14%
13 ~ 14%
Random + 5
15
200
150
Insanity Dragon
15 ~ 17%
15 ~ 17%
Random + 8
18
250
200
The additional ability on Magician weapon will be evasion, NOT OTP.
ex) Ancient Dragon : Eva +8
2. Equipments
List
Grade
Def
Bonus Stat
Tops
Imoogi
1 ~2
Random + 1
Shadow Dragon 
3 ~ 4
Random + 1
Sky Dragon 
5 ~ 6
Random + 2
Ancient Dragon 
7 ~ 9
Random + 2
Storm Dragon 
11 ~ 14
Random + 3
Violent Dragon 
17 ~ 21
Random + 3
Thunder Dragon 
25 ~ 30
Random + 5
Insanity Dragon 
35 ~ 40
Random + 7
Bottoms
Imoogi
1 ~2
Random + 1
Shadow Dragon 
3 ~ 4
Random + 1
Sky Dragon 
5 ~ 6
Random + 1
Ancient Dragon 
7 ~ 9
Random + 2
Storm Dragon 
11 ~ 14
Random + 2
Violent Dragon 
17 ~ 21
Random + 3
Thunder Dragon 
25 ~ 30
Random + 5
Insanity Dragon 
35 ~ 40
Random + 6
Helm
Gloves
Boots
Shields
Imoogi
1 ~2
Random + 1
Shadow Dragon 
3 ~ 4
Random + 1
Sky Dragon 
5 ~ 6
Random + 1
Ancient Dragon 
7 ~ 9
Random + 2
Storm Dragon 
11 ~ 14
Random + 2
Violent Dragon 
17 ~ 21
Random + 3
Thunder Dragon 
25 ~ 30
Random + 4
Insanity Dragon 
35 ~ 40
Random + 5