Quest System-Mission(Quest)
Mission(Quest) is more like a game system and it's usually done by group of players.

IntroductionThis quest system works as you collect items when you hunt and buy the [Mission Letter] so that it can be repeated.Method

1. Collect items by hunting the monsters that are listed on the Mission letter.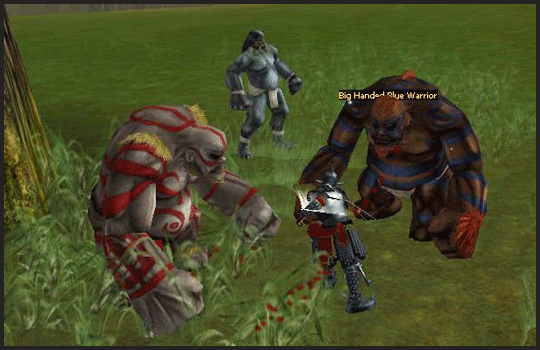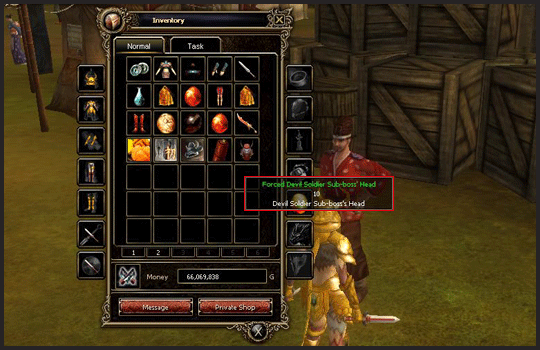 2. After collecting the quest item, buy the [Mission letter] from the [Mission announcer]NPC.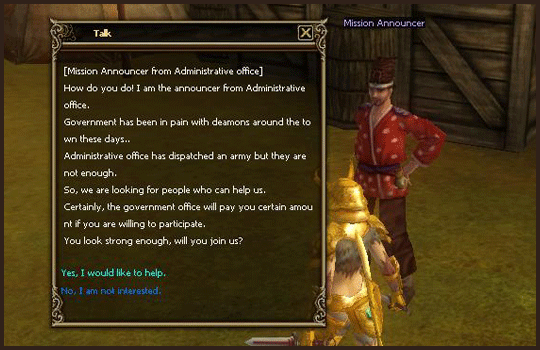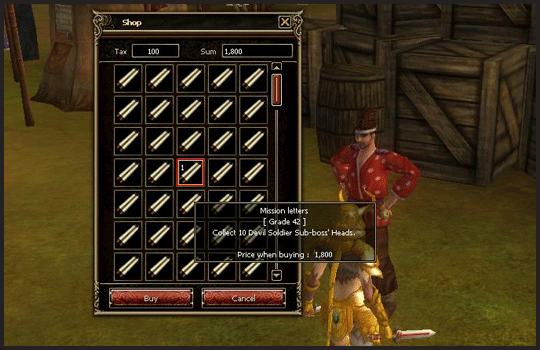 3. Right click after purchasing the mission letter.
4. [Complete] button will work when you have the item of the quest.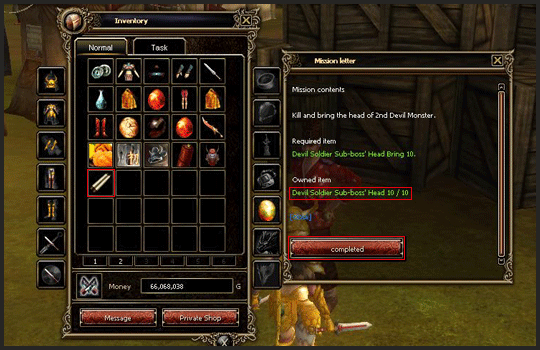 5. When you select [Complete] button, you will be rewarded by the mission.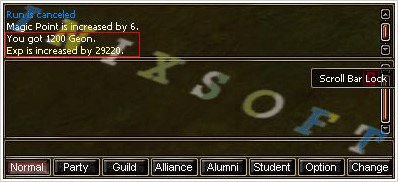 Point 1. You are allowed to use and buy [Mission Letter] anytime, anywhere.
Point 2. You may repeat this as much as you can.
Point 3. An Item for quest (61 or higher level) will be go to quest window.
Task
| Mission | Amount | Related monster | Level |
| --- | --- | --- | --- |
| Big Handed Inhabitant's dead body | 25 | Big Handed Inhabitant, Big Handed Inhabitant's slaves | 10 |
| Big Handed Warrior's dead body | 15 | Red and Blue Big Handed Warrior | 12 |
| Demon Soldier's Head | 10 | Demon Soldier | 14 |
| Demon Throwing Soldier's Head | 10 | Demon Throwing Soldier | 16 |
| Wild Demon Soldier's Head | 10 | Wild Demon Soldier | 17 |
| Demon Shock Trooper's Head | 10 | Demon Shock Trooper | 18 |
| Demon Flag Bearer's Head | 10 | Demon Flag Bearer | 19 |
| Demon Band's Head | 10 | Demon Band | 20 |
| Demon Water Dragon's Head | 10 | All Kinds of Water Dragons and predator | 21 |
| Demon Armored Knight's Head | 10 | Demon Armored Knight | 23 |
| Crazy Demon Warrior's Head | 10 | Crazy Demon Warrior | 25 |
| Demon Commander's Head | 5 | Demon Commander | 29 |
| Devil Soldier's Head | 20 | Devil Soldier | 29 |
| Devil Soldier Twin Blades' Head | 10 | Devil Soldier Twin Blades | 31 |
| Devil Soldier Bow's Head | 10 | Devil Soldier Bow | 32 |
| Devil Soldier Sword's Head | 5 | Devil Soldier Sword | 33 |
| Devil Soldier Spear's Head | 5 | Devil Soldier Spear | 34 |
| Devil Troop of Jealousy Mask | 50 | Devil Troop of Jealousy | 40 |
| Devil Troop of Hatred Mask | 40 | Devil Troop of Hatred | 41 |
| Devil Troop of Madness Mask | 40 | Devil Troop of Madness | 42 |
| Devil Soldier Sub-boss' Head | 10 | Devil Soldier Sub-boss | 42 |
| Devil Soldier Boss' Head | 5 | Devil Soldier Boss | 42 |
| Devil Troop of Anger Mask | 45 | Devil Troop of Anger | 43 |
| Devil Troop of Absorbing Green Mask | 15 | Devil Troop of Absorbing Green | 44 |
| The Cave of The Giant Bird Demon's Head | 60 | The Cave of The Giant Bird Demons | 45 |
| Rotten Skeleton of Warrior of the Royal Tomb | 30 | Rotten Skeleton Warrior of the Royal Tomb 4 | 46 |
| Doggebi of Monster Face Fire | 20 | Doggebi of Monster Face | 47 |
| Doggebi with a Gong Fire | 10 | Doggebi with a Gong | 48 |
| Drunken Doggebi Fire | 20 | Drunken Doggebi | 49 |
| Doggebi with a Mask of Black Fire | 20 | Doggebi with a Mask of Black | 50 |
| Doggebi with a Mask of Black Panther Fire | 20 | Doggebi with a Mask of Black Panther | 51 |
| Giant Doggebi Fire | 40 | Giant Doggebi | 52 |
| High Class Doggebi with a Gong Fire | 20 | High Class Doggebi with a Gong | 53 |
| The Royal Tomb Keeper's first certificate | 10 | The Royal Tomb Keeper(Sword, Shield) | 54 |
| High Class Drunken Doggebi Fire | 5 | High Class Drunken Doggebi | 55 |
| The Royal Tomb Keeper's second certificate | 10 | The Royal Tomb Keeper | 56 |
| High Class Doggebi with a Mask of Black Crow Fire | 5 | High Class Doggebi with a Mask of Black Crow | 57 |
| Demon Crack Soldier's head | 20 | Demon Crack Soldier | 58 |
| Traitor Warrior's Talisman | 20 | Traitor Warrior | 59 |
| Chief of Demon Crack Troop's head | 40 | Chief of Demon Crack Troop | 60 |
| E-Mok Island Blacksmith's rings | 30 | E-Mok Island Blacksmith | 60 |
| Trained Traitor Warrior's Talisman | 10 | Trained Traitor Warrior | 61 |
| Small Green E-Moogi's teeth | 30 | Small Green E-Moogi | 61 |
| Monster of Demon Crack Troop's head | 10 | Monster of Demon Crack Troop | 62 |
| E-Mok Island Sealed Ghost's ring | 20 | E-Mok Island Sealed Ghost | 62 |
| Guard of the Traitors Hangout's Talisman | 5 | Guard of the Traitors Hangout | 63 |
| Small Brown E-Moogi's teeth | 30 | Small Brown E-Moogi | 63 |
| White Beast of Demon Crack Troop's head | 20 | White Beast of Demon Crack Troop | 64 |
| Twisted Green E-Moogi's teeth | 15 | Twisted Green E-Moogi | 64 |
| Knight of the Traitors Hangout's Talisman | 5 | Knight of the Traitors Hangout | 65 |
| Twisted Brown E-Moogi's teeth | 15 | Twisted Brown E-Moogi | 65 |
| Blue Beast of Demon Crack Troop's head | 5 | Blue Beast of Demon Crack Troop | 66 |
| Twisted Demon Guarder's head | 10 | Twisted Demon Guarder | 66 |
| Twisted Demon Patrol's head | 15 | Twisted Demon Patrol | 67 |
| Twisted Demon Warrior's head | 10 | Twisted Demon Warrior | 68 |
| Twisted Demon Soldier's head | 20 | Twisted Demon Soldier | 69 |
| Twisted Demon Defender's head | 5 | Twisted Demon Defender | 70 |
| Pincers of Desert Scorpion | 20 | Desert Scorpion | 75 |
| Rib of Skeleton | 20 | Skeleton Soldier, Skeleton Archer | 75 |
| Head of Twisted Demon warrior | 20 | Twisted Demon Warrior | 75 |
| Certificate of Xill | 20 | Xill, Xill Archer, Starved Xill soldier,Xill Conjurator | 75 |
| Certificate of Goblin | 20 | Goblin Warrior, Goblin Conjurator | 75 |
| Head of Knoll | 20 | Knoll soldier, Knoll Mad Warrior, Knoll Archer | 75 |
| Certificate of Zombie | 20 | Wounded Evolve Zombie, Wounded Zombie Conjurator | 75 |
| Certificate of Master Skeleton | 10 | Master Skeleton Warrior, Master Skeleton Archer | 75 |
| Head of Master Wraith | 10 | Master Wraith | 75 |
| Wild Boar's Head | 80 | Wild Boar | 86 |
| Knoll's Head | 100 | Knoll | 87 |
| Degenarated Twisted Demon's Head | 120 | Degenarated Twisted Demon | 88 |
| Goblin's Head | 150 | Goblin | 89 |
| Guard of D'evah's Head | 200 | Guard of D'evah | 90 |
| Pincers of Desert Scorpion | 20 | desert Scorpion | 87 |
| Rib of Skeleton | 20 | skeleton soldier, skeleton archer | 89 |
| Head of Twisted Demon warrior | 20 | twisted Demon warrior | 90 |
| Certificate of Xill | 20 | xill, Xill archer, starved xill soldier, xill conjurator | 90 |
| Certificate of Goblin | 20 | goblin warrior, goblin conjurator | 89 |
| Head of Knoll | 20 | knoll soldier, knoll mad Warrior, knoll archer | 89 |
| Certificate of Zombie | 20 | wounded evolve zombie, wounded conjurator zombie | 92 |
| Certificate of Master Skeleton | 10 | master skeleton warrior, master skeleton archer | 92 |
| Head of Master Wraith | 10 | master wraith | 92 |
| Hunt the Wild Boars and bring their Jaw | 40 | wild Boar | 83 |
| Hunt the wolves and bring their Blood of Wolf | 40 | wolf | 81 |
| Kill the Elite Skeleton Soldiers and bring their Shield | 40 | Elite Skeleton Soldiers | 80 |